ScanMouse
The smartest mouse in the world is now sold out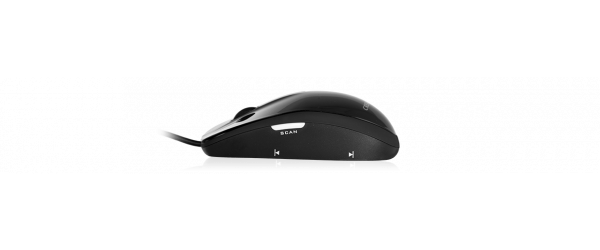 An ergonomically shaped mouse and high-performance scanner in one device
Thank you very much for your visit. The legendary ScanMouse is now sold out. With Pay Eye we will soon have a new product on offer. We look forward to welcoming you to our shop again soon.
Want to scan text and translate it directly? Scan designs in A3 format and send them directly to friends? Capture payment slips with reference lines (ESR) and process them directly online? This little mouse with its sharp eye manages all this and much more.
An ergonomically shaped mouse and high-performance scanner in one device
Scan pictures, text and tables up to A3 format in print quality
Process scans directly into Excel, Word or Evernote
Capture payment slips with the integrated PayApp directly through your online bank account
Details
Versatile and refined like a Swiss army knife
The ScanMouse is a Swiss invention and it is as versatile and refined as the famous Swiss army knife. Computer mouse, high-performance scanner and document reader – all in a single compact mouse. Ideal for use at home, in the office or at school.
With just one click, the mouse converts into a multifunctional scanner. Documents can be scanned in any desired pattern. The scanning process is shown one-to-one on the screen – like revealing the picture on a scratch card.
Once scanned, your documents, pictures or tables can be saved directly in the appropriate application or the desired format (Word, Excel, PDF, JPG, PNG, TIFF) or published straight to Facebook, Twitter or Flickr if required
Scanner always to hand
The high-performance scanner is better than any smartphone. In just a few seconds it captures whatever you want to see on your monitor: pictures up to A3 size, text in 180 languages, or tables directly into Excel. Next, you can decide whether you wish to continue processing the documents in the usual office applications. Every scan has print quality of up to 400 dpi.
Capture payment slips quickly and accurately
As the world's only computer mouse, the CLX.ScanMouse also comes with integrated CLX.PayApp functionality. With a quick swipe over a payment slip's code line (ESR), the data (account, amount, reference number) is transferred quickly, securely and accurately to your online bank account or payment software.
The benefits of the ScanMouse
Ergonomisch geformtes, funktionales Design
Ergonomically shaped, functional mouse with four buttons:
scan button, left click, right click, clickable scroll wheel
Optical sensor with laser (slam scan technology)
Scan resolution up to 400 dpi
Scans any desired document in print quality
The software takes care of collation (stitching) – eliminating the need to scan in a defined pattern
Save and process text from any document directly in Word
Save and process tables directly in Excel
Share pictures directly with friends on Facebook, Twitter or Flickr
CLX.PayApp: capture payment slips directly in online banking, quickly and accurately
System compatibility with full functionality for Windows 10/8/7
System compatiblily with macOS version 10.10 and above
Technical Data
Windows 10, Windows 8, Windows 7
OS X 10.10 Yosemite onward
CPU: Intel® Core™ Duo or AMD Athlon™ II
Graphics card: 512 MB or more
RAM: 4 GB (1 GB frei)
OpenGL Version: 2.0, minimal 1.5
Free Disk Space: 4 GB
USB: 2.0 or 3.0
Internet Connection
ScanMouse is wired (no wireless version available)
Cable length approx 130 cm
Shipping Items
ScanMouse
PayApp
Quick Start Guide