Reader PayPen II - End of Lifetime
The successful model for secure recording of payment slips is sold out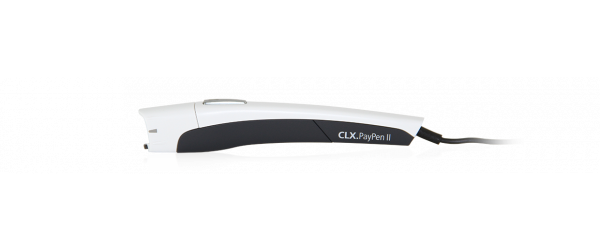 The successful model, tried and tested thousands of times is sold out
All informations about the successor model PayEye can be found here
Details
The lightweight pen with heavyweight performance
The reader PayPen II is ergonomic and smart. With its elegant design, the PayPen II also looks good on your desk. The practical desk dock keeps it out of the way and available whenever you need it. With a simple swipe over the code line of Swiss payment slips, the data is transferred to your online bank account or payment software quickly, securely and accurately. The PayPen can scan in both directions, so it is suitable for both left-handers and right-handers.
Specialist and generalist
Individual payment slips can also be typed in manually or photographed with a smartphone and then transferred. With larger volumes of ESR, PayPen II is recommended as it ensures considerably greater comfort and professionalism during capture. With a click of the switch button, the PayPen also reads the payee's address as well as the reference line (account, amount, reference number). If required, PayPen II also captures passages of text from newspapers, books or documents directly into your computer in around 29 different languages. It is also easy to scan barcodes.
From upwards of 30 payment slips per month, we recommend our professional scanner QR Giromat G400
The benefits of the PayPen II
Automatic capture of code lines from all Swiss payment slips with a simple swiping motion
Direct switch to text capture for scanning payee addresses, etc.
Bidirectional reading (suitable for left-handers and right-handers)
Compatible with all commonly used online banking systems and payment software in Switzerland
All scanned data available immediately
Ideal for up to around 30 payment slips per month
Mode switching from online banking to text, number or barcode scanning
Scan passages from newspapers, books or documents directly into your PC
Text recognition in 29 languages
Barcode scanning – ideal for small businesses and personal use
Compatible with Windows 10, 8, 7
Compatible with macOS
Technical Data
Windows 10, Windows 8, Windows 7
macOS X 10.10 Yosemite or onward
USB interface (USB 2.0)
Measurements: 117 x 14 x 22mm
Speed: up to 25cm/sec
Size: 5 till 28 dots
Key for additional functions (text, number, barcode scanning)
Powered by USB interface
No batteries required
Wire approx 110 cm
Shipping Items
PayPen II scanning pen
USB cable
Desktop holder