Bank Cler PhotoTAN
E-Banking registration: the straightforward and highly secure process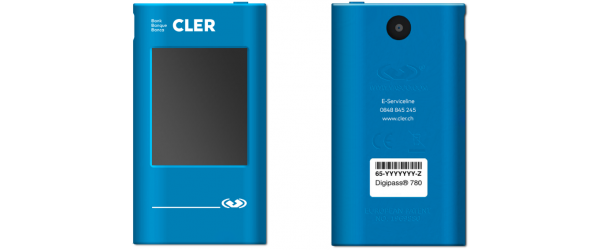 Why not the highly secure login and approval process? It couldn't be simpler
What is the PhotoTAN device for?
PhotoTAN is a login process whereby the PhotoTAN device generates your password suffix for E-Banking login or payment approval in E-Banking.
How does the device work?
The reader device is not connected to your PC or to a network. Scan with the camera of your PhotoTAN device the coloured mosaic on the screen to generate a personal, one-off code for login or payment approval in E-Banking. PhotoTAN login is available only for E-Banking (not Mobile Banking).
What have you to know?
No special technical requirements are necessary for your log-in via PhotoTAN. All you need do is connect the device to your E-Banking contract first. The straightforward set-up takes just a few steps. It isn't necessary to install any software or connect to a network. And you needn't connect the PhotoTAN device to a PC.
Note for customers from neighbouring countries: Set country "Switzerland" at checkout and enter the country of delivery in the comment field - thank you
Details
The Bank Cler PhotoTAN device works using a patented technology whereby a mosaic image is displayed on a E-Banking login page. This graphic cryptogram is composed of a matrix of coloured dots. The PhotoTAN device deciphers the code for login or payment approval from this matrix. Only one PhotoTAN device can be activated per E-Banking contract.
Have you already ordered your PhotoTAN and received the device?
If so, you can activate the PhotoTAN device in just a few steps: start the login process in E-Banking and activate "PhotoTAN". You will need your personal PhotoTAN activation letter and the password you received by post from Bank Cler.
Specifications
Independent of operating system
No connection to PC required
Screen size 1.77 inches
Dimensions 76 mm (L); 42 mm (W); 8.5 mm (H)
Up to 8 e-banking contracts can be activated per device
Rechargeable battery
Weight 25 grams
Languages: English, French, German, Italian
Extent of delivery
PhotoTAN device in blue
USB charging cable
PhotoTAN Support
E-Service Line
Switzerland: 0848 845 245
International: +41 61 286 21 00
Monday to Friday
08:00 - 20:00