ClubMaker simplifies administration for clubs

ClubMaker
ClubMaker becomes fairgate with PayMaker Club

As a user of ClubMaker, we will soon take you into a promising future through the new powerplay of two industry experts:
Fairgate, the leading provider for club management and PayMaker Club, the leading payment software, are the answer to our original question: "How can we successfully navigate you as a club/association into the future?
All our customers are informed directly. Details can also be found on our FAQ page and at Fairgate (available in German and French).
All information about the QR-readiness of our products can be found here.
Important note on ordering:
The full version and the subscription of the ClubMaker are being revised and can currently not be ordered.
The available update/upgrade includes 6 months maintenance (instead of the usual 12 months, see EULA supplement).
Please visit our shop again from the end of August 2020. Thank you for your understanding.
Details
The new PayMaker Club, with an integrated interface to our new partner Fairgate, convinces with additional functions for an optimized club management. As usual, you process your payment transactions using the proven features of PayMaker Club.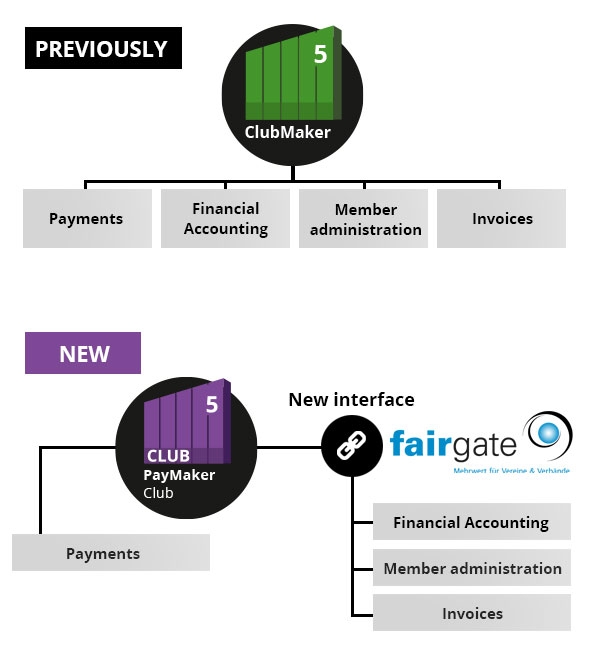 Technical data
Operating system: Windows 10
RAM: min. 2 GB
Hard disk: min. 500 MB
Internet
Release Note
Current Version: 5.1.12.0 (Corrections (15.09.2020))
Corrections
QR payment: Domestic payment/red IS cannot be saved with QR-IBAN (for beneficiary)
QR payment: Setting for "Default execution date" is correctly applied
QR payment: is displayed as a command button
Various adaptations